FEATURE
Place Names and #LandBack

In the United States, federal lands are stolen lands.
When the first European settlers arrived on the shores of North America, moving westward to the Pacific Ocean, there were, by some estimates, upwards of 112 million Indigenous people already living on the continent. Organized into their own rich and diverse societies, Indigenous Nations, bands, and tribes had long-established traditions, diplomatic relations, and deep historical and cultural ties to place. Their very existence was a problem for the colonial nations, which were competing to claim the so-called "New World" as their own. For colonizing nations like Great Britain, France, Spain, and Portugal, the New World was understood to be terra nullius, or nobody's land: empty, and therefore ripe for possession, settlement, cultivation, and economic development. As Indigenous lands were seized by colonial governments, militias, companies, and white homesteaders, they were given new names to assert and reflect their new status. As Indigenous scholar Dina Gilio-Whitaker reminds us, colonial naming practices were part of a systematic process of erasure: "Four centuries of colonialism are mapped onto what had been Indigenous lands with Indigenous names for many thousands of years." Place-names serve a significant ideological function: to obliterate any trace of life on the land before European settlement.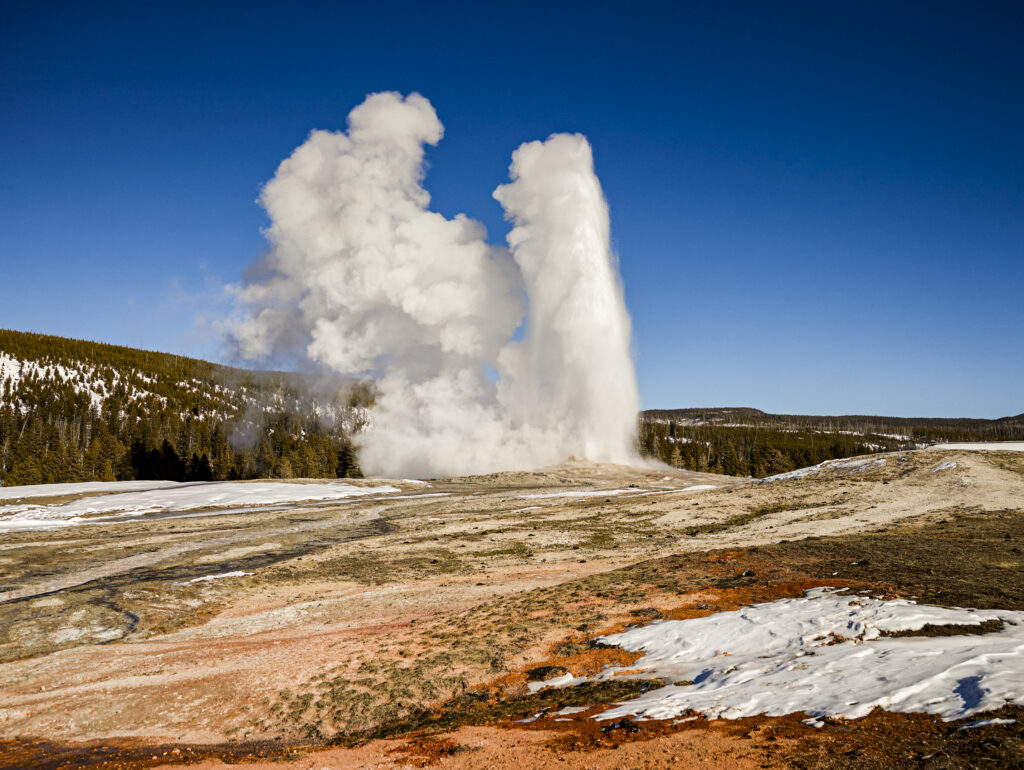 Producing the Wild
Even the most remote spaces of rugged wilderness—those "natural cathedrals" removed from the property market and classified as National Parks—were not simply "discovered" by intrepid explorers. The first National Parks were established in the late nineteenth century, when the US government and its corporate allies colluded to kick Indigenous people off their lands—a process of expropriation that frequently resulted in bloodshed. As Ojibwe historian David Treuer recounts, at Yosemite, where the Miwok had resided for millenia, roughly 200 armed militiamen "sought to starve them into submission by burning their food stores." The militia also "used embers from the tribe's own campfires to set the wigwams aflame and shot at the villagers indiscriminately as they fled, murdering 23 of them," driving them out of their homelands and onto reservations, where they were contained, surveilled, and policed.
The brutal history of the National Parks offers a telling reminder that in settler-colonies like the United States, there is nothing natural about the wilderness. Touted as "America's Best Idea," the National Parks remain key sites for the production of wilderness—a project of conservation that requires the theft of Indigenous lands, as well as the treatment of Indigenous peoples as an invasive species. This project of Western Conservation marks nature as a primordial outside—outside of history and external to the human. Drawing borders around protected zones of refuge for recreation, hunting, and aesthetic appreciation, the project of Western Conservation, which found its full expression in the Parks system, was perfectly harmonious with the capitalist project of extraction and development that continues to warm the planet at unprecedented rates, ravaging the world at large.
The model of conservation embodied in the first National Parks is not the only one. In the process of establishing the National Parks, the federal government did not only dispossess Indigenous peoples of their lands. It also disregarded, demonized, and outlawed the practices of land and water stewardship that Indigenous peoples had been honing for millenia. For example, Indigenous practices of cultural burning, practiced successfully by the Karuk, Yurok, and numerous other tribes for generations, were outlawed by colonial governments throughout the nineteenth and twentieth centuries, and replaced with a Western approach to fire management, which saw any fire that wasn't contained by a fire pit to be destructive. Today, as some of the largest fires on record burn through forests on the west coast of the US, many conservationists are reappraising their long-standing dismissal of controlled burning. Contrary to the tradition of Western Conservation, which nominates some lands as worthy of protection and others as disposable, Indigenous practices of stewardship are based on a belief, widely held by ecologists today, that people, animals, and the land are held in reciprocal relations with one another. You cannot simply pick and choose which places to conserve. The settler-colonial states demonized Indigenous ecological practices not because they thought they were backwards or incorrect, but because they understood that these practices were incompatible with—and threatening to—the project of aggressive resource extraction that the colonizers were invested in carrying out.
Revealing the Traces of Violence
The traces of this violent history of dispossession—of land, ways of life, and traditions of stewardship—can be found throughout the US National Parks system, but only if you know what you're looking for. You only need to look at the maps, printed to guide the millions of tourists who enter the parks system annually, where mountains, rivers, waterfalls, and other landmarks are named to commemorate colonial statesmen and prominent eugenicists, perpetuate racial slurs, and erase Indigenous histories. To name only one egregious example, Yellowstone's Mount Doane is named after Lieutenant Gustavus Cheyney Doane, who led the US Army to slaughter hundreds of Indigenous women and children during the Hayden Expedition of 1871.
In "Words are Monuments," a new study of more than over 2,200 place names in 16 National Parks, published this month in People and Nature, it was revealed that "Names that are traditional Indigenous place names, their translations, and those commemorative of a Native American individual or people or a Black individual were outnumbered more than 2:1 by place names that perpetuate settler colonialism and white supremacy in obvious and less obvious ways."
There are a multitude of sites across the Parks system that Indigenous Nations view as sacred. These sacred places had names before they were appropriated by the federal government, names that remain deeply meaningful to the descendants of the people who once called them home. The systematic renaming of sacred places—no matter how offensive by contemporary standards—serves not only to obscure their great importance to Indigenous peoples, cultures, and traditions, but also to reinforce the pervasive idea that the National Parks are a remarkable and uncomplicated achievement for Western Conservation.
Across the Parks system, Indigenous communities are launching campaigns to change the names of the mountains, rivers, valleys, and other landmarks that are sacred to their Tribal Nations, taking on the National Parks system by taking on the symbolic codes that naturalize it. By challenging the most offensive and derogatory National Park place-names, these campaigns do not only ask us to reopen the question of land ownership—whose land is it, anyway?—but also the question of land stewardship—what lands should be defended, why, and against what?
In response to these grassroots efforts, the U.S. Department of the Interior recently kicked off a process to review and remove derogatory and offensive place names on federal lands, and the National Association of Tribal Historic Preservation Officers joined with The Wilderness Society to release a step-by-step tutorial for individuals, communities, and Tribal Nations seeking to change place names. With the publication of "Words are Monuments," scientists and scholars have entered the fray, drawing on the tools of data analysis to build an empirical case for the replacement of settler-colonial place-names. Their study helps to make clear that place-names are the products of politics, and, like other monuments, are openings that can be activated as fronts in the anticolonial struggle.
The Road to Landback
As the catastrophic impacts of climate change take hold, more and more people, including many who were trained in the tradition of Western Conservation, are coming to positions that Indigenous peoples have held for centuries, seeing Traditional Ecological Knowledge (TEK) as a possible answer to the failures of Western Conservation. The Indigenous resurgence, which has been ongoing for centuries but explosive in the past decade, has forced a crisis in the status quo, placing the settler-colonial world on shaky ground.
The many place-name campaigns that are setting off across the country are part of this resurgence. They are not simply efforts to make federal lands more inclusive. As fronts in the broad struggle to renew and restore Indigenous languages, cultures, traditions, and ways of life, they attest to the power of words to shape meaning and memory, and to express and reproduce authority. They ask us to see how settler-colonial place-names have inscribed settler-colonial relations to the land, which in turn shape the world we live in. On the flipside, they ask us to see how symbolic struggles to Indigenize place-names can be part of a broader struggle to re-inscribe and materialize Indigenous relations to land, based not on extraction and profit, but on the recognition that the land gives us life, and not the other way around. They also show us how remapping the landscape can be a stepping stone on the path to free, prior and informed consent, co-management, and land rematriation.