Place names can be misleading. Take Yosemite's Lake Tenaya, which was named after Ten-ie-ya, an Ahwahnechee Chief whose tribe had lived in the region for thousands of years before it became the protected wilderness site we know today.
The Yosemite Valley was traditionally home to Ahwahnechee and Chowchilla tribes, but it was also home to massive gold deposits. During the California Gold Rush of 1849-1851, the valley was invaded by thousands of gold prospectors and miners seeking to make their fortune. When the tribes stood their ground and protected their sacred homeland against the new settlers whose sole aim was to profit from it, white residents of nearby Mariposa quickly formed a militia, which would become known as the Mariposa Battalion. Their goal: "to rid the area of the perceived threat of Indians." The militiamen were sanctioned by the state of California to protect Yosemite as an extractive zone. According to the National Park Service: "When they entered Yosemite Valley, they systematically burned villages and food supplies and forced men, women, and children away from their homes." But in this upside-down world, the Ahwahnechee and Chowchillas were seen as the belligerent invaders.
It was within the context of this violent raid that Lake Tenaya got its name.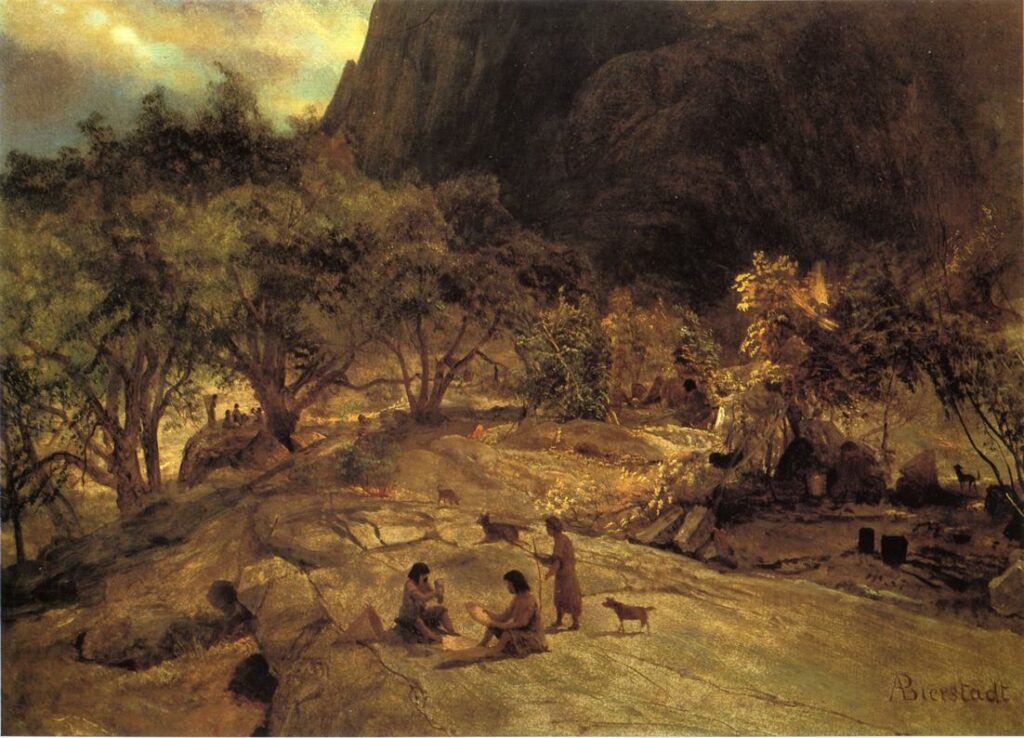 Naming Lake Tenaya
The story is chronicled in the 1892 book Discovery of the Yosemite and the Indian War of 1851 Which Led to That Event, authored by physician and Battalion member Lafayette Houghton Bunnell. Rebecca Solnit recalls reading this book in her classic 1994 book Savage Dreams: A Journey into the Hidden Wars of the American West:
For me the inadvertent climax of the book, the passage that haunted me, was a scene at Lake Tenaya, after the old Chief and his people had been captured, just before they were marched to the flatlands of the San Joaquin Valley to live on a reservation. The passage runs, "When Ten-ie-ya reached the summit, he left his people and approached where the captain and a few of us were halting. . . . I called him up to us, and told him that we had given his name to the lake and river. At first he seemed unable to comprehend our purpose, and pointing to the group of glistening peaks, near the head of the lake, said 'It already has a name; we call it Py-we-ack.' Upon my telling him that we had named it Ten-ie-ya, because it was upon the shores of the lake that we had found his people, who would never return to it to live, his countenance fell and he at once left our group and joined his family circle. His countenance indicated that he thought the naming of the lake no equivalent for his loss of territory.
Commemoration is no compensation for forced removal, broken treaties, and cultural genocide. Sometimes, they are one and the same. As Solnit explains:
Usually annihilating a culture and romanticizing it are done separately, but Bunnell neatly compresses two stages of historical change into one conversation. Bunnell says, in effect, that there is no room for these people in the present, but they will become a decorative past for someone else's future.
Indigenous Names, Settler Relations?
The renaming of Indigenous lands with Indigenous names in the aftermath of conquest was actually not an uncommon occurrence. In a 1925 survey of US place names, Louis N. Feipel noted that "in the New World, settled not by savages, but by civilized men, a large proportion of the names are surprisingly barbarous." Adopting the racist vocabulary and perspective that was typical of white settlers in the inter-war period, Feipel went on to describe place-names like Alleghany, Erie, Cherokee, Kansas, Ohio, and Illinois as "the only memorials of once powerful tribes which have become extinct." Feipel was ignorant of the endurance and contemporary political power of many of the tribes he assumed were "extinct," but his key point—that from the settler-colonial vantage, Indigenous place-names were understood as tombstones—should remind us that the politics of place-names are never straightforward.
As the case of Lake Tanaya demonstrates, when we read place-names out of context, they often tell us very little. They sometimes even mislead us. No place-name is neutral. Even names that have been arbitrarily assigned do not arise out of thin air. They are situated, coming out of specific political struggles over land and political sovereignty. Place-names locate us not only within a specific place, but also within the totality of relations that they arise from, and the system of relations they reinforce. When we locate place-names within the system of relations they point back to, we can begin to see what is at stake in their renaming. We can also begin to see the scale of what is to be done.