The conservation case for place-name reconciliation
This year marks the 150th anniversary of Yellowstone, the first National Park in the United States. The anniversary has sparked new attention to the violent history that led to the park's founding, which started, as Indigenous scholar and journalist Dina Gilio-Whitaker succinctly puts it, with "genocide and land theft."
Since 2017, members of the Blackfoot Confederacy and the Great Sioux Nation have been calling on the National Park Service to change the names of some of Yellowstone's most visited landmarks, including Mount Doane and Hayden Valley, which serve to commemorate the brutal history that led to the park's founding. Mount Doane is named after Lieutenant Gustavus Cheyney Doane, who played a prominent role in the Marius Massacre of 1870, when the US Army ambushed a Piikuni camp, slaughtering nearly 200 people, many of which were women and children already suffering from smallpox. Hayden Valley is named after the geologist Ferdinand Vandeveer Hayden, who was responsible for mapping the Yellowstone region.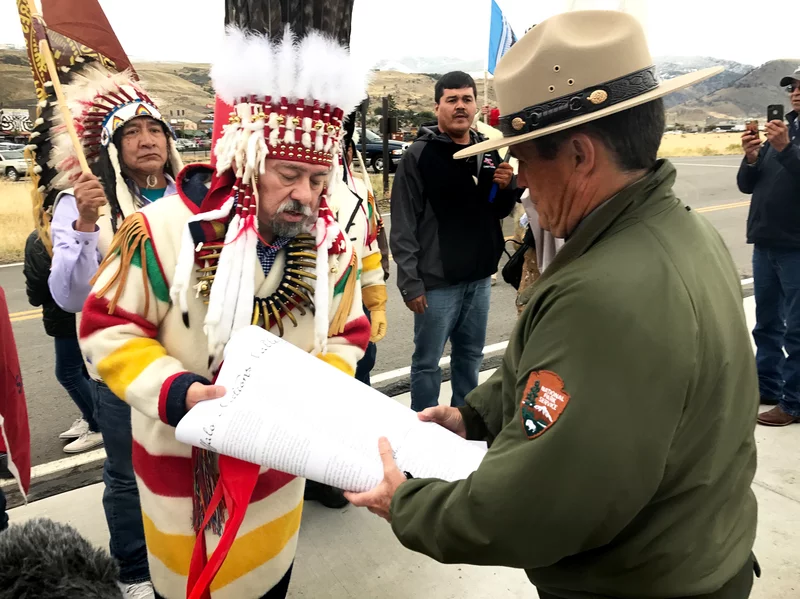 In an opinion piece, Chief Stan Grier of the Piikani Nation of the Blackfoot Confederacy argues that while Hayden was not directly involved with the massacre of Indigenous Peoples, he and Doane were two sides of the same coin:
"Where Doane participated in genocide, Hayden advocated for it. 'Unless they are localized and made to enter upon agricultural and pastoral pursuits they must ultimately be exterminated,' Hayden wrote of tribal peoples in his US Geological Survey of Wyoming, published by the government in 1872."
The tribal coalition has proposed to rename Mount Doane as First People's Mountain and Hayden Valley as Buffalo Nations Valley, names that would commemorate the dispossessed custodians of the land, providing monuments that Indigenous Nations could point to in the telling of their stories—not just of the violent colonial histories they have endured, but also of their values, traditions, and ways of relating to animals and the land, which were scorned by the engineers of the parks system. 
The Yellowstone renaming campaign is situated within a broader, ongoing struggle over the management of federal lands and the National Parks system, where Tribes are fighting for greater authority over the stewardship of the parks system.
Following the November 2020 elections, the National Congress of American Indians issued a sweeping set of demands for the Biden Administration, including for the swift implementation of a true co-management agreement:
"The hunting and fishing practices of American Indians and Alaska Natives are essential to their social, cultural, spiritual, and economic well-being and survival. Current federal/state dual management – without specific tribal participation – fails to provide a sustainable yield for critical traditional and customary species, resulting in a harmful reduction of hunting and fishing practices. It is important for the Administration to carry out its trust responsibility to provide for meaningful tribal consultation and support tribal co-management of natural resources. There are numerous examples of co-management agreements between federal agencies and Tribal Nations, yet this practice has not yet been normalized. Given the skill and sophistication of tribal governments, this needs to change. The incoming Administration has the unique opportunity to set a lasting standard for tribal-federal co-management plans and should act to assist Tribal Nations in protecting these resources for future generations."
The demand for land co-management is finding support not only from Indigenous Nations and their representatives in the federal government (notably Secretary of the Interior Deb Haaland), but also from conservationists.
Indeed, in recent years, conservationists and ecologists around the world have begun to scrutinize the racist, colonial and white supremacist assumptions that were baked into the cake of Western Conservation. In the process of this internal reckoning, many conservationists have begun to reassess their long-established dismissal of Traditional Ecological Knowledge (TEK).
For example, a recent Yale Environment 360 Report points to the ways in which Indigenous conservation and land management practices, which Indigenous peoples have developed over thousands of years, often yield better conservation outcomes than the status quo approaches to conservation that are enshrined in our federal agencies and institutions — from protecting fish populations to controlling wildfires.
"TEK is deep knowledge of a place that has been painstakingly discovered by those who have adapted to it over thousands of years. Says conservation researcher Henry Huntington, "people have relied on this detailed knowledge for their survival, they have literally staked their lives on its accuracy and repeatability." Tapping into this traditional wisdom is playing an outsized role in the Arctic, where change is happening rapidly. This realm has long been studied by disciplines under headings such as ethno-biology, ethno-ornithology, and biocultural diversity. But it has gotten more attention from mainstream scientists lately because of efforts to better understand the world in the face of climate change and the accelerating loss of biodiversity."
Within this larger reflection on the limitations of Western Conservation, renaming campaigns function as punctuation marks: ways of driving forward an important conversation about the history and future of our public lands in a time of profound environmental and social change.